The Kit Arrives
I don't have a trailer and Beauford said they could deliver it when it is ready (for a small charge). It's coming  Saturday 18th June!
Its arrived
Due to the back axle, front beam, engine and gearbox being in the garage, I decided to put the kit on the drive until I could fit them, at least the chassis and body tub, all the other bits and pieces went in, eventually!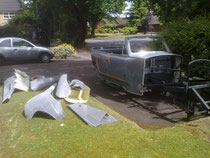 Although I'd got axle stands and ramps (and bricks) at the ready, Paul said he would leave the castor wheels to allow me to move it around. As there were still some bits missing, windscreen, coil over shocks, hood, bonnet sides, fuel sender, wing piping and headlamp rims, it partially made up for it.